Modular Design: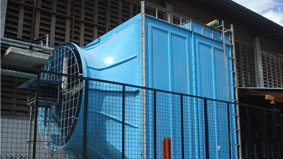 The tower casing has been manufactured form fiberglass reinforced plastic (FRP) which is highly corrosion resistance to give sufficient structural strength, to with stand high wind velocity and vibration and so its called FRP Cooling Tower.. Casing is fabricated in segments duly matched at works and aerodynamic contours are achieved for best fan performance.
Fan: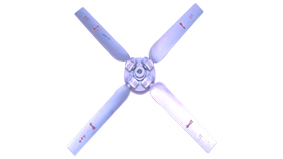 The Aluminum Alloy Fan is Gravity Die Cast. It Is an Axial Flow, Multi blade Version with Aero Foil Blade Section and Adjustable Blade Pitch. The Fan Is Designed in such a way that to Deliver Large Volumes Of Air At Low Power Consumption as well as Low Noise Generation. The Fans Are Dynamically Balanced For Smooth Operation, Longer Bearing And More Life Including Of The Supporting Structure.
Fan Drive Motor: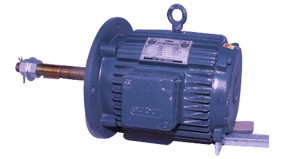 The Fan Drive Motor Is In LP 55 Weather Proof Design The Fan Is Directly Driven By The Special Extended Shaft Motor Made From En8 Steel Mounted Facing Downward On A Mounting Frame On The Top Of The Cooling Tower.
AIR INLET LOUVERS:
Air Inlet LOUVERS OF PVC Are Provided To Prevent Contaminants Like Leaves, Birds Etc. Entering The Cooling Tower.
Nozzles: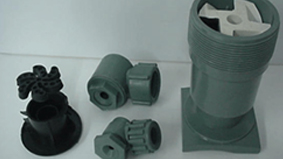 The PVC FLOWER Type Nozzles Is Used To Distribute The Water Evenly Over The Cross Section of The Tower.
DRIFT ELIMINATORS: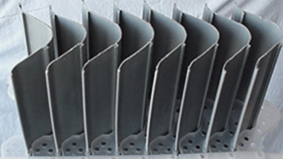 Drift Eliminators, Made Out Of Rigid PVC, Are Designed To Remove Entrained Particles From Air Steam Efficiently, With Minimum Pressure Drop, Thereby Reducing The Fan Power
Requirement When The Air Passes Through The Drift Eliminator. Water Droplets Are Separated From The Air Drift At The Three Direction Change Points On The Drift Eliminator. For Cross flow Tower Applications, The Almost Vertical Water Conduits Provided by the CD-100 Drift Eliminator Remove the water droplets out of the drift eliminator area and return them back into the tower and does not allow any re-entry.
STEEL STRUCTURES:
All members like supporting structure, fan supports, motor stand are hot dip galvanized. Also bolts, Nuts and washers used are M.S. plated.