Modular Design: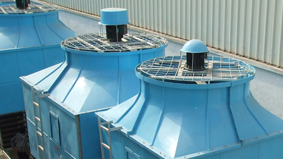 Our Cooling Tower are modularly designed/Structured. Which ensures scalability with changing requirements. You can select with variety of models available to suit your requirements. Constructed with FRP CASING & BASIN and H.D.G. support structure which ensures suffcient structural strength.
Few of Our Installation | Resources
Louvers:
Aerodynamically Designed air intel louvers made of extruded PVC for least water losses.
Fan:

The fan is directly driven, axial flow type made of light weight Aluminum casting and specially designed to ensure AEROFOIL section through out two blade length. This ensures energy savings and generate maximum air flow.
Motor:

Electric motor is totally weatherproof enclosed in IP:55 construction, low RPM suitable for heated & humid condition.
Fills:

Our honeycombed PVC fills are high performance, heavy duty, low weight, excellent resistance to corrosion. These offer a striking balance between maximum heat transfer surface area vis-à-vis minimum restriction to air flow.
Steel Structure:
All members like supporting structure, fan supports, motor stand are hot dip galvanized. Also bolts, Nuts and washers used are M.S. plated.